Progress with our Energy Project
We hope on this page to keep you up to date with the latest news on the energy project.
By way of background, Council agreed in June 2013 to form a committee to look into the energy footprint of the church. After a very thorough survey, the committee highlighted several areas where energy was being wasted or poorly used. These areas included the way the church was heated, the periods during which the hall was heated, hall insulation, the hot water supplies in the hall and the house, the insulation of the chaplain's house, and especially of its walls and roof, and the efficiency of the boiler. The committee consulted experts and gathered initial estimates, especially a GEAK Plus report in September 2015, putting the total cost in the region of Fr250'000. An appeal was launched, and a magnificent donation allowed us to undertake further measurements and get down to detail. The committee produced its final report in April 2016 and presented it to Council (though the definitive version was agreed in September 2016) with detailed recommendations (and a final cost estimate of some Fr400'000). Council set up a project team, led by Hans Goepfert, and including Edi Wildhaber, Rolf Klingler, Hector Davie, Isabelle Wienand and Sue Higson. The team appointed H+K Planungs AG as project manager.
State of Play: 10 June 2017
A very successful and well-attended Ethiopian evening raised some Fr2000 towards our appeal. Many thanks to our sisters and brothers in the Ethiopian church for their help and hospitality!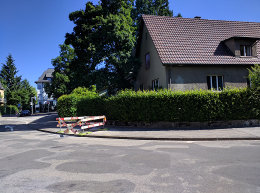 The application for building permission is now being processed by the city authorities. As expected, we found that the wooden panelling in the church had been part of the original design - the wall behind it was completely unplastered brickwork. This meant that we have had to think again about the church heating, perhaps with an underfloor solution. Once building permission for the house and hall has been received, we can start work. Contracts have been signed, and work can start as soon as permission comes through.
The observant will have noticed a hole in the pavement outside the church house. EWB have been installing gas to the building, as we shall be using less energy, and one part of the project involves replacing our bulky and noisy boiler with a smaller, more silent and more efficient model. Watch out for more signs of progress!
24 April 2017
The firms we are inviting to tender for the work came to view the site on Maundy Thursday, and we will receive their tenders before the end of the month.

Last week, some of our team went to Zollikofen with representatives of H+K Planung to inspect the heating in the parish church. This basically consists of a heated wall. The sacristan there told us that this had dramatically improved the church heating, and lowered the costs. H+K have also delivered a similar project at Gretzenbach (SO).

One problem with such a solution is that it will work best if the wooden panels in the nave are removed. People have commented that these panels make the church look darker and less inviting, but the Denkmalschutz need to be convinced that they are not an original feature of the building. We will remove a part of the panelling and see if the wall behind is plastered, which will be a sign that the woodwork is not original.

HD - Page last modified 10 June 2017