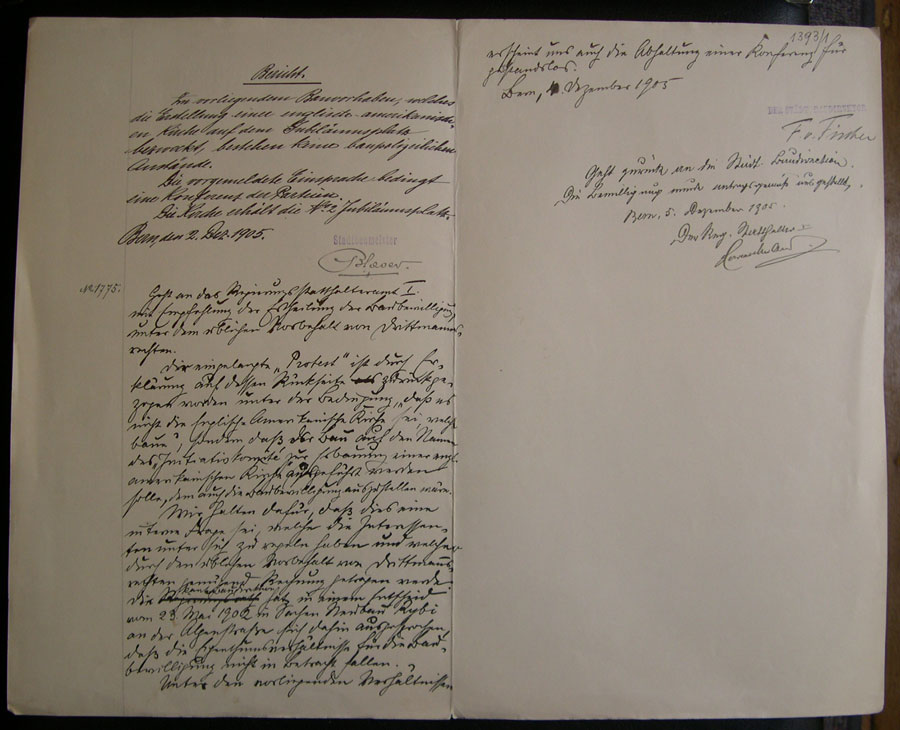 The application was published in the Anzeiger for 11 and 13 November 1905. The building inspector's report notes that there was one objection.
Bericht.
In vorliegenden Bauvorhaben, welches die Erstellung eine englisch-amerikanischen Kirche auf dem Jubiläumsplatz bezweckt, bestehen keine baupolizeilichen Anstände.
Die vorgemeldete Einsprache bedingt eine Konferenz der Parteien.
Die Kirche erhält die Nr 2 Jubiläumsplatz.
Bern, den 2. Dez. 1905
Stadtbaumeister
Blaser
Geht an das Regierungsstatthalteramt I mit Empfehlung der Ertheilung der Baubewilligung unter dem üblichen Vorbehalt von Drittmannsrechten.
Der eingelangte "Protest" ist durch Erklärung auf dessen Rückseite zurückgezogen worden unter der Bedingung, "dass es nicht die Englisch-Amerikanische Kirche sei, welche baue, sondern dass der Bau auf den Namen der "Initiativkomité für Erbauung einer engl.-amerikanischen Kirche" angeführt werden solle, dem auch die Baubewilligung auszustellen wäre.
Wir halten dafür, dass dies eine interne Frage sei, welche die Interesstanten unter sich zu regeln haben und welcher durch den üblichen Vorbehalt von Drittmannsrechten genügend Rechnung getragen werde. Die kant. Baudirection hat in einem Entscheid vom 23. Mai 1902 in Sachen Neubau Rybi an der Alpenstrasse sich dahin ausgesprochen, dass die Eigentumsverhätnisse für die Baubewilligung nicht in Betracht fallen.
Unter den vorliegenden Verhältnissen erscheint uns auf die Abhaltung einer Konferenz für gestandslos.
Bern, 4. Dezember 1905
Der städt. Baudirektor
F. v. Fischer
Geht zurück an die Städt. Baudirection. Die Bewilligung wurde anfragsgemäss ausgefüllt.
Bern, 5. Dezember 1905
Der Reg. Statthalter I