| | |
| --- | --- |
| | Göttibach Church, Thun, Switzerland |
---
In 1813, Jakob Wilhelm Knechtenhofer bought the Lindengut at Göttibach in Thun, and built a small pension there to take advantage of the growing tourist trade. His two sons, Johann Jakob and Johann Friedrich, opened the Bellevue Hotel on the site in 1834. They also built the Casino. In 1840, they resolved to build an English chapel in the hotel grounds, and in 1841 the foundation stone was laid by David Richard Morier, British Minister Plenipotentiary in Berne. It was built in the simple style of a summer pavillion.
As in many places in Switzerland, the hotel invited clergymen from England to stay for the summer free of charge in exchange for taking weekly services. From 1852, the chaplaincy was served on a seasonal basis by the Colonial and Continental Church Society. Later, the Old Catholic community in Thun also held services there, as guests of the Anglicans.
During the Second World War, the English tourist trade dried up, and the Thunerhof AG, who now owned the hotel, offered the church to the Old Catholics. The building was sold to them in 1942, and was entirely renovated in 1946, and again in 1993. It is now the Old Catholic parish church of Thun, and in 2009 was dedicated to St Beatus, but Anglican Christmas carol services are still held there. (The hotel closed in 1980.)
English services are now held at the French Chapel at Frutigenstrasse 22 close to the railway station.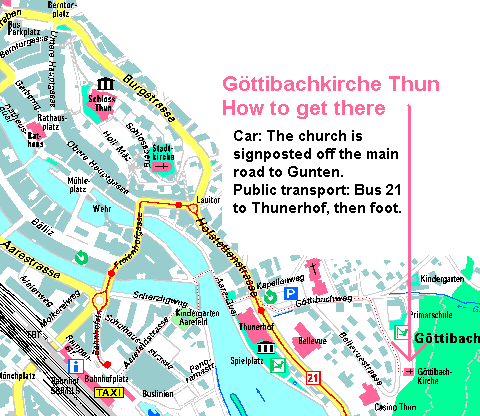 To reach the church on foot from Thun railway station, walk down Aarefeldstrasse to the river, and cross the footbridges over the weir (Obere Schleuse) and river (Göttibachsteg). Turn right and follow the river bank for about 120 metres. Go up to the main road and cross it by the Thunerhof bus stop. Walk up Göttibachweg, and take the second turning right into Bellevuestrasse. The church is clearly visible from the corner.
---
HD - Page last modified 23 December 2016