| | |
| --- | --- |
| 1850-1860 | James Frederick Lateward |
| 1847-1860 | William Thomas Postles Tymperley |
| 1861-1863 | George William Mackenzie |
| 1861-1880 | Various chaplains under the patronage of the CCCS |
| 1881-1886 | Robert Skinner |
| 1887 | Joseph Bernard Smith |
| 1888 | Arthur Anglin Mitchell |
| 1889-1890 | Bertram George Durrad |
| 1890-1893 | Thomas Carter Stanley |
| 1893-1894 | William Henry Boyne Bunting |
| 1894-1896 | Alfred Swainson |
| 1897-1903 | James Richard Dutton Thompson |
| 1903-1905 | Herbert MacDonald |
| 1905-1907 | Gilbert Holme Sissons |
| 1907-1912 | W Richard Henry Pring |
| 1913-1916 | Harcourt Robert Henry Lightburne |
| 1921-1935 | Alexander Bassell Winter |
| 1937 | John Knight Lomax |
| 1939-1942 | John Taylor Holman |
| 1942-1945 | J George Moore |
| 1946-1952 | Markus Matthaeus Vischer |
| 1952-1954 | William Rowland Jones |
| 1954-1968 | Reginald Bernard Gray |
| 1968-1976 | Sidney John Baggott |
| 1976-1989 | Peter John Hawker |
| 1990-2001 | David Colin Wotherspoon |
| 2001-2007 | Richard Lawrence Pamplin |
| 2008-2016 | Peter Maxwell Potter |
| from 2017 | Stephen Stuckes |
Chaplain 1968-1976.
Sidney Baggott graduated from Christ Church College, Oxford in 1933, recording in Crockford's that he had achieved fourth class honours in Classical Mods and a third in Greats, but that after graduation, he had received a distinction in the University's Diploma in Theology. He attended Wycliffe Hall, and was ordained in 1934, and priested in 1935.

From 1937 until 1947 he served in Nigeria. He returned to Europe, and was appointed chaplain in Leysin in 1947. With interruptions at Davos from 1948 to 1950 and in Marylebone in 1951 and 1952, he served as the last full-time chaplain of Leysin, serving Villars and Montana as well, until 1968, when he moved to Berne.

He was appointed Rural Dean of Switzerland in 1966, and Honorary Canon of Malta Cathedral in 1972.

Architect (1856-1942)
Sir Reginald Blomfield, the son of a bishop, who had close ties with the Arts and Crafts Movement, was called in to advise on the abortive 1889 project for taking over the Antonierkirche in Postgasse. He was also involved in building the second nave at Montreux, some six years later. His best-known structure is the Menin Gate in Ypres. Chaplain 1893-1894
William Boyne Bunting was born in Queensland, Australia, in 1865, and studied at Hatfield Hall, Durham, graduating in 1885. He was second master at Moulton Grammar School, in Spalding, Lincolnshire until ordination at Lincoln in 1888. He served curacies at Combe-in-Teignhead, Devonshire, Louth and then at Rushden in Northamptonshire, before coming to Berne, at Easter 1893, aged about 30. He lived at Münzgraben 13. His Annual Report for 1893 is in the church archives, along with his Accounts for that year. He stayed in Berne for only a year. In 1894 he became vicar of Priors Hardwick in Warwickshire, filling the place vacated by Alfred Swainson. In 1899 he was appointed vicar of Porlock in Somerset. He married in 1909. He was vicar of Sydenham, Kent, now part of London, from 1917 to 1929. He and his wife died in tragic circumstances in 1936. Benefactor
Lucie Cable Castleman, aged 55, arrived at Ellis Island on 10 November 1905 from Liverpool after a 9-day passage on the S.S. Baltic. Her address was 3963 Liddell Avenue, St Louis. and she was accompanied by Margaret A Postlewaite sic, single, aged 33. One can assume they were returning from Switzerland. Mrs Castleman was a widow who had come to Berne with her adopted daughter, whose name is elsewhere given as Ursula Postlethwaite, to attend Professor Kocher's clinic, probably for a goitre operation. Professor Kocher had spoken at an international conference in St Louis in 1904. In thankfulness for the successful operation, Mrs Castleman donated the remaining shortfall to the appeal for an English Church in Kirchenfeld, which enabled the current church to be built. Patrons 1859-1887
Now known as the Intercontinental Church Society, the Colonial and Continental Church Society received its name in 1861, but was founded in 1823 (as the Newfoundland Society for the Education of the Poor!). Its ministry to English-speaking people in continental Europe began in 1825. The Society was and is still active in supporting both permanent and seasonal chaplaincies in various parts of the world. Chaplain 1889-1890.
Born in Lichfield in 1860, he graduated in 1882 from Jesus College, Cambridge, and was made deacon in the same year. He was priested in 1883 and received his M.A. in 1886. From 1882 until 1885 he was curate at Ashbourne in Derbyshire. For the next three years he was curate in Berrington and at St Giles, Shrewsbury in Shropshire.

Crockford's Directory for 1899 lists him as chaplain at Rummelsburg and Berne in 1889 and 1890. In 1891 he returned to Wem, in Shropshire, and after 1893, served at Chadsholme, and Harpenden in the Home Counties.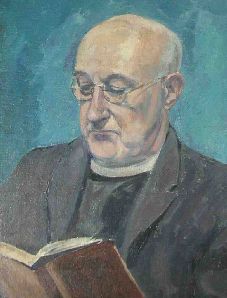 Chaplain 1954-1968.
Barney Gray was educated at Ridley College, Melbourne, and ordained in 1936. He was priested in 1938. He served curacies in Victoria, and during the war served as a chaplain in the Royal Naval Volunteer Reserve from 1941 to 1946. After the war, he served in the Oxford diocese until 1954, when he was appointed to the Berne chaplaincy ("with Neuchatel, Stuttgart and Basle"!) to replace Rowland Jones.

The requirement for the post stated that the new chaplain "should be a gentleman with a minimum of tact, and should know how to behave in diplomatic circles." Immediately after his arrival, the church hall and house were built, being completed in 1956. During his early years in Berne, Barney Gray also served Basle fortnightly. (There was a suggestion that the CCCS chaplaincy in Basle and the SPG chaplaincy in Berne should be merged, but this never took place. Instead, Basle was set up as a permanent chaplaincy in 1955.)

He retired in 1968, and stayed on to assist his successor, Sidney Baggott. He finally left Berne, to full retirement, in 1974. He died in a Worthing nursing home on 26 September 1986. His wife, Pat, had died in Berne in the 1960's.

H.B.M. Minister 1902-5.
Sir Conyngham Greene was born in 1854. He had married Lady Lily Stopford, and had been minister in Pretoria when the second Boer War broke out. He was appointed British Minister in Berne on 1 May 1901, and served until December 1905, when he was succeeded by Sir George Francis Bonham. In Berne, he was treasurer of the Appeal Fund set up in 1904 for building the new church. Chaplain 1939-1942.
Born in Redruth in 1861, John Holman attended Pembroke College, Cambridge, graduating with a BA in 1899. He attended Ridley Hall, and was made deacon in 1902 in Winchester, and priested in 1904 in Lahore. He served in Karachi, and was chaplain to the Bishop of Lahore until 1908. He served in the First World War, and was awarded the Military Medal in 1917.

After the war, he served in Algiers and Hong Kong (where he was registrar to the University), before becoming chaplain to the British Legation in Peking from 1923 to 1933. He was awarded an OBE in 1926. John Holman was appointed chaplain in Frankfurt in 1934, also covering Stuttgart and Baden.

He moved to Berne in as war started to threaten in 1939. His first service at St Ursula's was on 30 April. In 1940 he reported: The British community is so small as to be non-existent, except for the Legation and Consular staffs which have greatly increased during the war. Apart from them, not a single purely British family in Berne. There are many Anglo-Swiss. Sunday morning attendance autumn 1939: 40, winter: 25.

He fell ill suddenly at the end of 1942. He took the service on 1 November, but was unable to officiate the following Sunday. He died on 15 November 1942 and was buried in the English Cemetery in Berne. His memorial plaque is in St Ursula's.

Chaplain 1952-1954.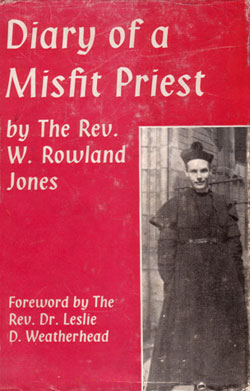 After training as a teacher at Westminster College, Rowland Jones attended Handsworth Theological College to train for the Methodist ministry. In 1914, his studies were interrupted by the war, and only afterwards could he continue his training.

His leanings towards High Church Anglicanism led him to seek ordination in the Church of England. He was made deacon at Durham by Bishop Hensley Henson on 19 December 1920, and priested the following year.

He served in Durham, Hampstead, Highgate and Mayfair before becoming vicar of St Hilda's, Audenshaw, where he served from 1930 until 1952.

He was awarded a doctorate, and published several books on psychology between 1941 and 1948.

His Anglo-Catholic views met with some opposition in Audenshaw, although he claimed to be an "Evangelical Catholic". In 1952, the Bishop of Machester recommended his appointment as chaplain at Berne. On his arrival, he was immediately plunged into the ambitious plans of the Building Committee, consisting of the businessman, Theodor Meyer, the British Consul, Frank Dixon, and the brewery proprietor, Hamish Munro, for the building of a church hall and house. There seem to have been various personality conflicts, particularly with the diplomatic circles within the congregation. His refusal to buy a dress suit led to his exclusion from the Coronation celebrations at the British Embassy in 1953.

As "president of the British Psychological Society" he gave a course of twelve lectures in 1953 on The Mechanism of Mind, and a further six beginning on 4 February 1954 at the English Institute.

He was later asked to submit his sermons to the British Embassy in writing for vetting, and eventually had to leave shortly before Easter in 1954. The Good Friday and Easter services that year were taken by Bishop A Stephen Neill, at that time with the World Council of Churches in Geneva.

In 1960, his Diary of a Misfit Priest was published by Allen and Unwin.

For the 700th anniversary of the founding of the city of Berne in 1891, an enormous pageant was presented. The stage, representing walls and ramparts, was in the area between Kirchenfeldstrasse and Dahlhölzli, where present-day Jubiläumsstrasse runs. The stands with seating were in the area now occupied by the church.

A square with radiating streets had been envisaged by the original plan for the Kirchenfeld development in 1881. The square itself was only built in 1903, though, and was named Jubiläumsplatz by resolution of the city council on 17 February 1904.

Theodor Kocher became an assistant in the surgical clinic in Berne in 1866. From 1872 to 1911, he was professor of surgery. He was also a pioneer in the surgery of the stomach, the gall-bladder, the joints, the brain, the uterus and the spinal chord.

However, he is most particularly known for pioneering an operation for removing the thyroid gland as a treatment for goitre. His treatment, which involved delicate and careful surgery, reduced the mortality to a very low figure. As a result of this and his other innovations, he received the Nobel Prize for Medicine in 1909.

He was one of those addressing the International Congress of Arts and Science in St Louis in 1904, and it was probably through this that he came into contact with Mrs Castleman.

Chaplain c.1850.
James Lateward was born in Marylebone, London, in 1787. (The Clergy List and Crockford's Directory differ over the order of his first names.) He studied at St John's College, Cambridge, graduating in 1809 and receiving his M.A. in 1812. He was made deacon in 1810 and priested in 1811. In 1812, he became rector of Perivale in Middlesex, with an income of £310 a year, plus a house. This enabled him to employ an able curate, and to travel. Presumably during his travelling he was able to spend time ministering to the English congregation in Berne. Crockford's Directory for 1860 lists him as Chaplain in Berne. He would have been in his seventies by then. Chaplain 1913-1916.
Born in London in 1883 into an Anglo-Irish family, he was educated in London and Versailles, and then spent time in Paris and Sweden, with the expectation that he would follow his father into the timber trade.

However, he felt called to the ministry, and went up to Selwyn College, Cambridge in 1904, graduating in 1907 and receiving his M.A. in 1911. He was made deacon in 1909 and priested the next year. His first curacy was at St Anne's, Aigburth, from which he resigned in 1911, "not being able to stand the 'Aigburth use' any longer." He served a further curacy at St Margaret's, Anfield.

After five Sundays at St Faith's, Great Crosby, in May 1913, Harcourt Lightburne came to Berne on 1 October of that year on what was at first a six-month appointment. In the spring of 1914, the appointment was made permanent. He lodged at the Pension Herter, Kramgasse 5.

One of his first tasks was to put the church's finances on a better footing. He inaugurated a subscription scheme. He also threw himself enthusiastically into church work, initiating children's services and a catechism class after the Sunday morning service, and a Bible study during Advent. It was in Lent 1914, too, that he began holding daily services, and a mid-week Communion service. He also wrote a weekly column with gossip from Berne for The Italian Lakes and Swiss Chronicle under the pseudonyn Harcourt Harcourtson.

The outbreak of war meant that much of his correspondence with England had to be by telegram.

He became very fond of Switzerland, and while in Berne, he met and became engaged to Nora Münch, the daughter of a Swiss architect and an English parson's daughter. In February 1916, he wrote to his congregation: "I am returning shortly to England: considerations of a personal nature making it now necessary for me to resume work there promising provision for the future." Presumably his engagement to Nora made it necessary to find a better-paid post. However, he also alludes to recently experiencing "certain other great and bitter disappointments."

From 1917 to 1919, he was a temporary chaplain in the Royal Navy, serving in South African waters. In 1920 he moved to Canterbury, where he married Nora Münch on 11 February at St George's Church, where he was in charge while the Rector reorganized the work of the Church of England Temperance Society at its head office. By doing wihout a maid, the couple were able to visit Switzerland annually until their four children were born. After a further assistant curacy at St Martins and St Paul's, Canterbury, lasting until 1924, Harcourt served the rest of his ministry in Hawkhurst, Upchurch and elsewhere in the Canterbury diocese.

(A 2003 magazine article also depicts Harcourt's life in Berne.)

Chaplain 1937.
Born in Salford in 1875, John Lomax was made deacon in 1908 and priested in 1909. He served in Southport and at Holy Trinity, Chester. From 1932 to 1937 he was vicar of Ince. He was appointed chaplain in Berne in 1937 at the age of 62, although in January1937, the University of Berne had advertised for an assistant English lecturer "not more than 30 years of age" to combine a university post with that of chaplain at St Ursula's. Chaplain 1903-1905.
He graduated from Cambridge in 1895, and was made deacon in the same year. He served a two-year curacy at St Peter's, Tunbridge Wells, and was priested in 1897. After four years as rector in Newhaven, Sussex, he became chaplain in Berne, arriving at the beginning of May 1903. His address was at Muristrasse 53. During his chaplaincy, he studied for a doctorate in Theology at the University of Berne, receiving the degree in 1904. Chaplain 1861.
He was born in 1825. He studied at Durham, and was made deacon in 1854, and priest in 1855. After a curacy in Shildon, County Durham, he was priested in 1855. He went to Munich, and served as chaplain there from 1855 to 1861.

In 1861, the Colonial and Continental Church Society, which had put Berne on their support list in 1859, but had not sent any chaplain, appointed him as chaplain in Berne. He seems to have served for two years.

After leaving Berne, he served for eleven years, from 1863 to 1874, at St James', Cupar, in Scotland. In 1874, he was appointed chaplain in Frankfurt-am-Main, serving for 33 years until the age of 82.

Acting Chaplain 1888.
In 1888, the chaplaincy at Berne was vacant. Services were maintained by Arthur Mitchell, who was chaplain in Montreux. Chaplain 1942-1945.
On 8 November 1942, John Holman was too ill to take the service. George Moore took over from 15 November 1942, the day John Holman died, as "American and British Chaplain". He lived near Thunplatz, at Steinerstrasse 47. In October 1943, despite the War, he was responsible for launching an appeal for the building of a church house. His last service in Berne was on Tuesday 24 July 1945. Chaplain September 1907-31 October 1912.
He graduated from Trinity College, Dublin in 1884, receiving his M.A. in 1907. After studying at Chichester, he was made deacon in 1887, but not priested until 1891.

He served in several parishes in the London area before spending just ovwe five years in Berne. (An article in the diocesan Church Magazine reported on the last year of his ministry.) In 1913, he moved to the chaplaincy at Algiers.

Architects
The architectural partnership of Eduard Rybi and Ernst Salchli is best remembered for its contributions to the National Exhibition of 1914. However they designed several other private buildings in Berne, some of which (for example, Viktoriarain 12-14) are listed monuments. The synagogue at Kapellenstrasse 2, which was also formally inaugurated in Setpener 1906, is also by them. They designed the plans for St Ursula's in November 1905. Chaplain 2 April 1905-10 September 1907.
Born in Lincolnshire in 1870, he graduated from Pembroke College, Cambridge, in 1892, and was made deacon in 1896, the same year in which he received his M.A. After a curacy at St Luke's, Leicester, he was priested in December 1897, and from 1902 to 1905 was at Duddington, Northamptonshire.

Gilbert Sissons was chaplain at the time the present church was built. He was appointed at the end of 1904, and stayed for a little over two years.

During this time, his mother, Jane Thompson Sissons, who would have been aged about 65, attended Professor Kocher's clinic, presumably for a goitre operation. Through her contact with Mrs Castleman, the money which was being appealed for to build the new church at Jubiläumsplatz was eventually donated.

He subsequently moved to St John's, Menton, where he stayed from 1907 until 1916. He next moved to All Saints', Rome for four years, and became Rural Dean for Italy and Malta, as well as the French Riviera. In 1921 he moved to Venice, in 1922 to Alassio, and from 1932 to his retirement in 1934 he was at Bordighera.

Chaplain 1881-1886.
He studied at Hatfield Hall, Durham. He was made deacon in 1853 and priested in 1854. He served in Wickham, Co. Durham, and then in Aberdeen, Fife, Lea Marston, Dacre and Shrewton before moving to Berne in 1881. He was instrumental in arranging with Bishop Herzog for the Anglican community to use the Old Catholic church of St Peter and St Paul for services from 1885. In 1886 he gave his address as 176 Junkerngasse. Chaplain 1887.
He studied at Trinity College, Dublin, graduating in 1867. He was made deacon in 1869, and served a curacy in Grantham, Lincolnshire, before being priested in 1871. For the next nine years he taught at Wellington College, and then from 1880 until 1882 he was vicar of Stubbings in Berkshire.

In 1882 he became chaplain of the English church in Xeres, Spain, moving at the end of the next year to Bologna, and then in 1887 for a short time to Berne. He was the first chaplain appointed after the Society for the Propagation of the Gospel (SPG) had taken over the patronage from the Colonial and Continental Church Society (CCCS).

Patrons 1887-1977
Now known as the United Society for the Propagation of the Gospel (USPG), the SPG was founded in 1701. Like its evangelical counterpart, the CCCS, it supported a number of permanent and temporary chaplaincies in Switzerland during the last two centuries. Chaplain 1890-1893.
He graduated from Trinity College, Dublin, in 1857, and was made deacon in the same year, and priested a year later. He served a curacy in Hollywood, County Down. He served as chaplain to the forces, serving in Aldershot, Preston, Halifax (Nova Scotia). Shoeburyness, Chatham and Dublin, before ending up in Gibraltar in 1885. During this period, he completed a doctorate in law at Dublin, receiving his LL.D. in 1869.

After five years in Gibraltar, he became chaplain in Berne from 1890 to 1893.

He next spent a year at Honeychurch in Devon, and then returned to the continent, serving at Dinant from 1894 to 1897, and then in Capri.

Chaplain 1894-1896.
Born in 1853 in Lancashire, he graduated from Trinity College, Cambridge in 1877, receiving his M.A. in 1890. He was made deacon in 1877 and priested in 1878. He served a curacy at St Buryan in Cornwall. From 1884 to 1894 he was vicar of Priors Hardwick in Warwickshire, becoming rural dean of Southam in 1891. In 1894 he moved to Berne, where he lived at 26 Dufourstrasse. William Bourne Bunting from Berne replaced him as incumbent of Prieor's Hardwick. An advertisement in the Church Times of 18 March 1896 reads: Rev. Alfred Swainson, Lansdowne-crescent, Leamington, late Chaplain at Berne, wishes for SUNDAY DUTY, also Good Friday (Three Hours). Extempore preacher. References. Usual terms. Chaplain 1897-1903.
He graduated from Magdalen College, Oxford in 1869. After some eleven years, he was ordained deacon in 1880, and priest two years later. He served curacies in Woodford, Wiltshire; Cranborne, Dorset; Temple Bruer, Lincolnshire and Burrington, Shropshire.

In 1897 SPG appointed him chaplain in Berne, and he served there for six years. He left on 13 April 1903. In 1905 he moved to Boulogne, France.

Chaplain 1847-1860.
Born in Manchester in 1807, he studied at St Bees, and was made deacon in 1841, priest in 1842. The Intelligenzblatt der Stadt Bern for 1 March 1847 had an item: Herr Timperley, englischer Caplan, dankt der Person, welche ihm für die bedrängten Irländer ein Päcklein mit Geld und einen goldenen Ring enthaltend, zugeschickt hat. Er wünscht aber, daß diese edle Person selbst den Werth des Ringes bestimmen würde, und bittet daher dringend, ihm auf die gleiche Weise, wie das Päcklein, einige Worte zukommen zu lassen.

The Clergy List for 1852 lists him at Berne. Crockford's Directory for 1860 lists him as "Chaplain to HBM Embassy at Berne". After leaving Berne, he moved to Sheffield. He retired to Hampshire, and later to Kent, where he died in 1889.

Chaplain 1946-1952.
Markus Vischer was born in Basle in 1879, and brought up in England. He graduated from Emmanuel College, Cambridge in 1901, receiving his M.A. in 1905. He attended Ridley Hall, and was made deacon in 1902 and priested in 1903.

He worked with the Mission to Seamen in London and Antwerp, and served as chaplain to the forces during the First World War. He returned to Switzerland in 1919, when he was appointed chaplain in Davos. He was there for three years before returning to Britain, where he ministered in Perth from 1922 for five years, Appledore, Kent from 1927 and then at Sandwich from 1931 until 1946.

On 1 June 1946, at the age of 67, he replaced George Moore as chaplain in Berne. He served the chaplaincies of Berne, Neuchatel and Basle, taking an evening service in Basle every second Sunday. In 1949, he was appointed Rural Dean of Switzerland. He was particularly friendly with Bishop A. Stephen Neill, who had been appointed delegate of the Archbishop of Canterbury to the World Council of Churches in Geneva in 1947.

In spring 1952 Markus Vischer left Berne and moved to Basle, where he continued to work until his retirement in 1954 at the age of 75.

Bishop of Fulham 1886-1911.
Thomas Wilkinson was born in 1838. He became the first Bishop of Zululand. He was consecrated Suffragan Bishop for the Bishop of London's Jurisdiction in Northern and Central Europe on 14 August 1886, succeeding Jonathan Holt Titcomb, who had been appointed as the first suffragan over the Jurisdiction in 1883.

He visited Berne shortly after his consecration, and was involved in many of the developments there, including the project to take over the Antonierkirche in Postgasse. His Twenty Years of Continental Work and Travel relate several of his experiences, and record his visits to Berne in 1886, 1889, 1895 and 1901. It was he who consecrated the newly-built church of St Ursula on 20 September 1906.

He served until March 1911.

Chaplain 1921-1935.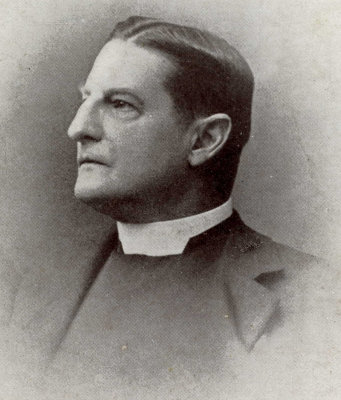 Born in British Guiana in 1859, he graduated from New College, Oxford in 1884. He trained for ordination at Sarum Theological College. After short curacies in Bethnal Green, Jerez and Hackney, he was vicar of St Barnabas, Bethnal Green, from 1902 to 1921. The SPG appointed him to Berne in 1921, commenting internally on the difficulties of financing the chaplaincy "owing to the small numbers of the English community." He was to remain for fourteen years until his death.

Bassell Winter contributed the column Currente Calamo to the Anglican Church Magazine, giving several insights into life in Berne during the interwar years. He died on 15 November 1935.
---
HD - Page last modified 10 July 2017