What's New?
Lent - the bad news, the good news
People think of Lent too often as a miserable time - no alcohol, no chocolates, suffering hardship and deprivation in unison with Jesus' pain on the Cross. But Lent means spring, and spring is a time of growth, and the idea is that we should grow in faith and commitment. By concentrating on things that are important, we bring ourselves closer to God and to what should be our real priorities in life - kindness to others, increasing our own faith (and others' faith too), doing good and chasing away evil.
There is a flyer of our Lent and Easter services here.
Easter is on 1 April - All Fool's Day. (If you think this is inappropriate, read 1 Corinthians 1:18-31!)
A Lenten Study
As in past years, we shall be having a regular study in Lent. This year's course uses as its basis talks given on BBC Radio 4. There is a flyer about it here.
A Lenten Appeal
Each Lent and each Advent, our bishop launches an appeal for some nearby cause where our help is badly needed. This Lent, Bishop Geoffrey is appealing for funds to help the church's response to the migrant crisis in the Calais area. Closing the Jungle Camp and the fire at the camp in Dunkirk have only made the plight of refugees worse, and the authorities are unable to cope with the tide of refugees, many of whom are only children. We hope to help finance a safe house run by an Old Catholic monk, who is a member of the Anglican congregation in Calais, and also in partnership with the diocese of Canterbury to finance a priest to act as chaplain in the Pas-de-Calais and to give pastoral assistance to the refugees. The Bishop's letter gives more details of the appeal. Please be generous.
Pancakes!
Shrove Tuesday on 13 February means pancakes. Pancakes for all. Sweet pancakes, savoury pancakes, pancakes with chili con carne, pancakes with lemon, plain pancakes. Come and enjoy, from 1800 onwards!
And no obligation to suffer the impossible Pancake Quiz. This year's questions will be even harder (we've run out of all the easy ones!). To limber up, here are the quizzes from 2012, 2013, 2014, 2015, 2016 and 2017!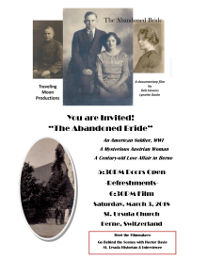 The Abandoned Bride
A couple of years back, Jana in the office had an enquiry from two American sisters. Did we have marriage registers for 1921? Yes, we did, but they did not show what the sisters hoped to find - the marriage of their grandfather to a young Austrian waitress.
One of the sisters is a film maker, and they have produced a documentary telling the story behind this post-wartime relationship between an American conscript and his "abandoned bride". The film is being shown at several film festivals, and on their way through Europe, the sisters will be showing it at St Ursula's on 3 March at 6.30 pm (with an ap&eacute:ro before at 5.30). All are welcome (though you are even more welcome if you come to our Book and Food Sale, which is on the same day from 1000 to 1400!).
You can read part of the story on pages 10-12 of our June-July 2016 magazine.
So you think you know about Switzerland? We are delighted that Diccon Bewes will be coming to St Ursula's on 9 March to give a talk and set a quiz about Switzerland and the Swiss. All are welcome to take part in this event. There will be refreshments, and admission will be free - though we shall have baskets for your contribution to our expenses and for any further gift to our buildings and energy fund!
Diccon is an entertaining speaker, and his website lists the several lively books he has written about Switzerland and the Swiss. It should be a very popular evening!
Stainer's Crucifixion
The Ghiribizzo Ensemble, led by Barbara Künzler, with Martin Kasparek on the organ, will be presenting John Stainer's Crucifixion on Good Friday afternoon at 1700. Stainer's well-known sacred oratorio was intended to be sung in parish churches, and this should be a memorable occasion, as well as a chance to sing the hymns which are part of the setting. There is a flyer here - please tell your friends about it!
Back in Church!
Our Energy and Sustainability Project is almost complete and we are back in church again. We thank the GVB Kulturstiftung for their generous grant, and the many others who have made large and small contributions to the success of this project.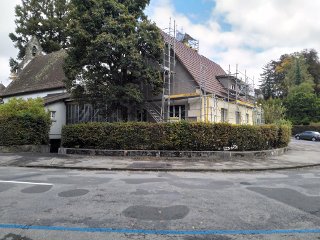 Our builders have spent the second half of 2017 on an ambitious energy project. Now it is nearly complete.
We also carried out renovation and remodelling work on the chaplain's house and renewed the church's sound and video system, dovetailing this with the energy work.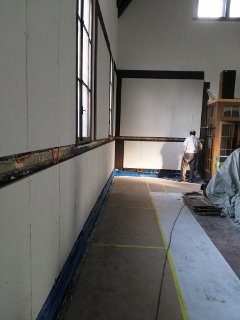 We have replaced the old oil tank and boiler with a gas-based system, for ease of maintenance. The new boiler is much smaller, since a more efficient heating system and more effective insulation mean that we need fewer kilowatts of heat from it. The former tank room is now the house cellar, and the former Schutzraum (bomb shelter) is accessible from the lower church hall.
With the agreement of the conservation authorities (Denkmalschutz), we have a new form of heating in the church. This relies on efficient radiators in the walls (a technique used in several churches). The panelling has been replaced with a facing of similar appearance to the old panels. On 5 November, we held a service of dedication in the newly finished church.
We have reglazed the hall, and are introducing a system controlled by the computerized church calendar (used for booking administration) to ensure that it is heated only when it is needed. The last phase of the project involved insulation work on the church house. For reports on the various stages of progress, click here. There are pictures too.
Creation and SACEP - Advance Notice
On 28 April, the Swiss Archdeaconry's Christian (or is it Continuing?) Education Programme is holding a conference on care for the creation at St Ursula's. Speakers from A Rocha will give information on practical issues, ranging from living lightly, consumerism, ethical questions to encouraging children (and adults) to see the wonder of God's creation around them. And a speaker from the 'Green Christian' Organisation will introduce us to the 'Joy in Enough' campaign which challenges Christians to play their part in creating a fair and sustainable economy.
Religious Extremism - Four Talks
Violence, terrorism and oppression in the name of religion are seldom out of the headlines these days. We are fortunate in having Canon Douglas Pratt as a regular member of our congregation when he is in Berne as Visiting Professor in the University's Department of Old Catholic Theology. Inter-relgious issues are his field of specialization.
Last November, he gave four talks on Wednesday evenings. Copies of the slides for them can be found here:
Weekday Prayers
We have been holding Morning and Evening Prayer for some time now, following the order in Common Worship. We hold Morning Prayer on Mondays, Tuesdays, Wednesdays and Fridays at 0800, and Evening Prayer at 1800 on Mondays, Tuesdays and Fridays. Everyone is welcome to these quiet, reflective times of prayer.
On Thursday mornings at 10.30 there is a chance to follow fellowship at the Eucharist with cake and conversation. Several people like this format, and we hope it will continue.
And on alternating Thursday evenings, there is always the chance of joining church members in the Thun area for their evening session of eucharist, reflection and fellowship. Their meeting place, the Chapelle Romande, is only a five-minute walk from the station there, so why not join them too?
Water, water, Uganda
We and our Junior Church have been taking a keen interest in a project to bring clean water to villages in the Kigezi diocese in Uganda. Some of our church members have been to the area and helped with the work, and he have dedicated our Harvest and Christmas collections to the plan, which is also supported by Tear Fund Schweiz.
Thun
We have held services in Thun for many years. They have always been on Thursday evenings, and for a long time were in rather a remote part of Thun.
At the beginning of 2017 we moved to the French Chapel at Frutigenstrasse 22, less than five minutes' walk from the station. You can see some pictures of our first service in the Chapelle Romande here. There is a flyer here - print one out for a friend! Click here for details of the next few services. Details of how to find us can be found here.
New Things in Biel/Bienne
Mark Pogson is establishing a pattern of English services in Biel/Bienne. Services are held at 1700 on the first and third Sundays in the month, thanks to the hospitality of the Old Catholic community there, who have placed the Epiphany Church at Quellgasse/rue de la Source 27 at the disposal of the Anglican congregation.
The church has its own website, biel-english-church.ch, which gives more information.
Money, money, money
Many of our members pledge to give a regular sum to support the church. We receive no state support, and have to finance the ministry here ourselves. Our pledge appeal was sent out in October, but there is still time to add to the growing number of people who pledge to the church. You may fill in a form (there are several in the church hall) and give or send it to the Treasurer, or pledge online.
Our Chaplaincy Survey
As part of our preparation for a new chaplain, we conducted a short survey to get solid facts about our congregation - they are not all over 70, they are not all women, they are not all cradle Anglicans, they are not all English (or even British). We also asked what the church meant to them, and how they saw its future.
Isabelle Wienand, did the hard work of sifting through the answers and preparing a report for Council (to help us draw up the profile) and for the congregation. You can find a copy of it by clicking on this link.
Refugees
As an English-speaking church in a German-speaking land, we have few direct contacts with the flood of refugees who come from the Middle East. We donate money to our sister congregation in Athens, who are directly involved in the hardships there. We give to specific projects run by Refuge Egypt, Tear Fund and Partner Sein, and other charities which are directly involved in this problem.
In addition, we are supporting an Afghan family locally, whose status is still in the balance. We would value your prayers for them.
Books for our Book Sales
Our book sale team have produced some notes on how you can help them by bringing the right kind of book, and not bringing the wrong kind of book. You can read their notes here.
Pledging
Many of our members have responded to our appeal, which we have tried to keep simple and direct. Trying to move with the times, we are introducing the possibility of pledging "on-line" - the pledge page on our website has details. We hope that paying on line will come later. In any case, every rappen is appreciated!
Our Library
We have started a series of reviews to bring interesting books to people's attention. These consist of short talks in church, or articles in the magazine. We hope this leads to wider use of the library.
Our librarians have been very busy over the past few months drawing up a catalogue of books available in our library (although we haven't catalogued the abundant children's books (yet)). You can see their catalogue here. The library is open most Sundays after church during coffee time, and everyone is welcome then to browse or to borrow.
Breakfast at Church
Since May 2014, we have enjoyed a church breakfast on the first Sunday of the month. We provide the food (cereals, fruit, juice, yoghurt, croissants, bread, tea, coffee), you provide the company.
Some 20 people have turned up for these regular breakfasts, which have been greatly appreciated. There are some pictures on our Picasa site.
Our next breakfast at church is on Sunday, 7 January. See you there?
Facebook
There's up-to-the-minute news as well on the church's Facebook site. Take a look!