What's New?
The Builders are here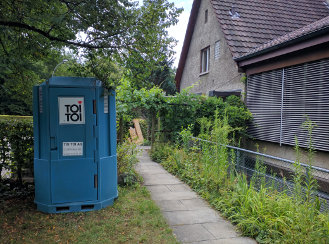 In the last half of July, the builders have moved in to begin the first stage of our ambitious energy project.
At the same time, we have been carrying out renovation work on the chaplain's house, relaying floors, remodelling the kitchen and bathroom, removing old chelving and repainting walls. This has been scheduled to dovetail with the energy work.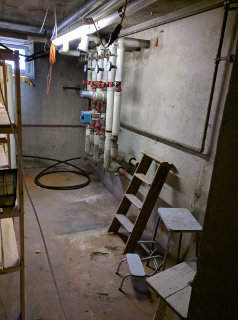 We started the energy work by removing the old oil tank and boiler. The new heating system will be gas-based, for ease of maintenance, and the boiler will be smaller, since a more efficient heating system and more effective insulation mean that we need fewer kilowatts of heat from it. The former tank room will be used as the house cellar, and the former Schutzraum (bomb shelter) made accessible from the lower church hall.
We have at last reached agreement with the conservation authorities (Denkmalschutz) on the form of heating we will be using in the church. This will rely on efficient radiators in the walls (a technique used in several churches). The panelling will have to be removed and modified. This will mean the church will be out of use for four to six weeks from 20 August, and we shall be holding services in the hall.
There is work to be done in the hall, too, which can be done relatively quickly in a short "window of opportunity" just after the autumn book and food sale.
The last phase of the project involves insulation work on the church house, which will take place in September. For the current state of progress, click here.
Weekday Prayers
Thanks to Henry Hope, we have been holding Morning Prayer on Tuesdays at 8.30 and Evening Prayer on Fridays at 18.00 for some time now, following the order in Common Worship. Everyone is welcome to these quiet, reflective times of prayer.
On Thursday mornings at 10.30 there is a chance to combine prayer with cake and fellowship. Several people like this format, and we hope it will continue.
And on alternating Thursday evenings, there is always the chance of joining church members in the Thun area for their evening session of eucharist, reflection and fellowship. Their meeting place, the Chapelle Romande, is only a five-minute walk from the station there, so why not join them too?
Gardening
It's the time of year when the garden grows aggressively. If you are able to help at any time, please get in touch with Edi Wildhaber, who is coordinating activities.
Energy and Ethiopia
On 9 June we had a very successful and well-attended Ethiopian evening. There are some pictures here.
Our friends from the Ethiopian congregation which uses our premises cooked a delicious Ethiopian meal, giving many of us our first taste of እንጀራ (injera) and ዋጥ (wat). The meal was enlivened by a three-part quiz about Ethiopia, and was followed by a traditional coffee cermony, with the beans being roasted over a charcoal fire.
Not only was the evening well-attended, but a lot of money was given towards our Energy and Sustainability Appeal. Work has already started on the early stages, although we still have to wait for official planning permission before we start on the main part of the work. Like many building projects, the work is likely to cost more than originally planned, which is why we are grateful for your contributions to our appeal.
Our New Chaplain - Licensed and Installed
Our chaplain, the Reverend Prebendary Stephen Stuckes took up his duties on 1 May. Stephen was previously Vicar of Alcombe, near Minehead in Somerset, Rural Dean of Exmoor and a Prebendary Canon of Wells Cathedral. He is in his fifties, and before he was ordained was in the Somerset police. His wife Jane is currently teaching at a school near Taunton. We pray that Stephen's ministry will bear much fruit among us.
Stephen's formal installation service was on 27 May. It was a festive occasion, and there are some pictures of it here.
Our Summer Fête
Our Summer Fête on 20 May was a great success. The sun returned, and there was good fellowship. Although the bookstall reported a lower level of interest, the shortfall was made up by Georgina's cake stall, and by the usual success of Jana's English food. The restaurant, barbecue, Pimms on the Lawn and fun and games all contrinbuted to the good atmosphere.
And we took over Fr6'200 (not all profit, by any means!) - almost as much as last year, and more than the Fête in 2015.
(We've put some pictures of the fête in a photo album, and Ignaz Fluri has made a album with even more pictures - to see it click here).
Water, water, Uganda
We and our Junior Church have been taking a keen interest in a project to bring clean water to villages in the Kigezi diocese in Uganda. Some of our church members have been to the area and helped with the work, and he have dedicated our Harvest and Christmas collections to the plan, which is also supported by Tear Fund Schweiz. We have also become friends with Revd Reuben Byomuhangi, who has spoken to us on a number of occasions.
On 21 May, the Bishop of Kigezi, the Right Reverend George Bagamuhunda, came to St Ursula's, and updated us about what is going on in a brief illustrated talk during coffee time.
New Things in Biel/Bienne
Mark Pogson is establishing a pattern of English services in Biel/Bienne. Services will be held at 1700 on the first and third Sundays in the month, thanks to the hospitality of the Old Catholic community there, who have placed the Epiphany Church at Quellgasse/rue de la Source 27 at our disposal.
The church has its own website, biel-english-church.ch, which gives more information.
New Things in Thun
We have held services in Thun for many years. They have always been on Thursday evenings, and for a long time were in rather a remote part of Thun.
Now we have moved, to the French Chapel at Frutigenstrasse 22, less than five minutes' walk from the station. Our first service there was on 19 January, and you can seem some pictures of it here. There is a flyer here - print one out for a friend! iClick here for details of the next few services. Details of how to find us can be found here.
Money, money, money
Many of our members pledge to give a regular sum to support the church. We receive no state support, and have to finance the ministry here ourselves. Our pledge appeal was sent out in October, but there is still time to add to the growing number of people who pledge to the church. You may fill in a form (there are several in the church hall) and give or send it to the Treasurer, or pledge online.
Our Chaplaincy Survey
As part of our preparation for a new chaplain, we conducted a short survey to get solid facts about our congregation - they are not all over 70, they are not all women, they are not all cradle Anglicans, they are not all English (or even British). We also asked what the church meant to them, and how they saw its future.
Isabelle Wienand, did the hard work of sifting through the answers and preparing a report for Council (to help us draw up the profile) and for the congregation. You can find a copy of it by clicking on this link.
Energy and Sustainability
Over the past three years, a team headed by Hans Goepfert has been studying and analyzing the church's energy use. We have also taken expert advice, and where possible have made use of the cantonal energy programme.
Our plans are now mature. The 2016 energy report is available here along with Annexes I, II, III, V, VI, VII, VIII and IX. The aim (in no particular order!) is to have a warmer church, to make major savings in our heating and energy costs and at the same time to benefit the environment. This will cost money - more than we have!
We are pressing forward with planning the work and raising the money. It makes little sense to delay, or to do the work in stages - like many things in this world, our many projects are bound up together. Doing them by stages would increase the overall cost of the work, and mean a series of small appeals, which would be less assured of success than a single big one!
We placed a contract in August for managing the project, and the preliminary work is under way for getting building and planning permission where it is needed (for all the complex is listed and under Denkmalschutz).
Our Sustainability Appeal has already had a spectactular response. An anonymous donor has given us the Fr250,000 which was the original target suggested by the GEAK report. Alleluia!. This does not mean that the appeal is over - we have several projects (church lighting, church sound system, hall kitchen update) which need funding - and with building work, one never knows if an estimate of Fr250,000 will turn into a bill for Fr350,000 - or more! So our appeal team will continue in place, and you can help consolidate its strength by sending a donation to Postfinance account 60-666488-7 (IBAN: CH61 0900 0000 6066 6488 7), St Ursula's Charitable Association. Donations are tax deductible.
Refugees
As an English-speaking church in a German-speaking land, we have few direct contacts with the flood of refugees who come from the Middle East. We donate money to our sister congregation in Athens, who are directly involved in the hardships there. We give to specific projects run by Refuge Egypt, Tear Fund and Partner Sein, and other charities which are directly involved in this problem.
Books for our Book Sales
Our book sale team have produced some notes on how you can help them by bringing the right kind of book, and not bringing the wrong kind of book. You can read their notes here.
Pledging
Many of our members have responded to our appeal, which we have tried to keep simple and direct. Trying to move with the times, we are introducing the possibility of pledging "on-line" - the pledge page on our website has details. We hope that paying on line will come later. In any case, every rappen is appreciated!
Our Library
We have started a series of reviews to bring interesting books to people's attention. These consist of short talks in church, or articles in the magazine. We hope this leads to wider use of the library.
Our librarians have been very busy over the past few months drawing up a catalogue of books available in our library (although we haven't catalogued the abundant children's books (yet)). You can see their catalogue here. The library is open most Sundays after church during coffee time, and everyone is welcome then to browse or to borrow.
Breakfast at Church
Since May 2014, we have enjoyed a church breakfast on the first Sunday of the month. We provide the food (cereals, fruit, juice, yoghurt, croissants, bread, tea, coffee), you provide the company.
Some 20 people have turned up for these regular breakfasts, which have been greatly appreciated. There are some pictures on our Picasa site.
There is no breakfast in August, so our next breakfast at church is on Sunday, 3 September. See you there?
Facebook
There's up-to-the-minute news as well on the church's Facebook site. Take a look!