What's New?
Christmas is coming
The building work is complete, the bazaar is over and it is time for us to welcome you to a warm church this Advent and Christmas-tide. From our carol services (Thun on the 7th, Heiliggeist on the 14th (and of course St Ursula's on the 25th!)), our Nativity Play on the 10th, to our Crib Service at 4 p.m. and our "Midnight" Mass at 10 p.m. on th 24th and our services on Christmas Day, there is something for the whole family and a warm welcome for all who come.
A flyer with details of our Christmas activities and services is here.
Back in Church!
Our Energy and Sustainability Project is in its final stages and we are now back in church again. We thank the GVB Kulturstiftung for their generous grant, and the many others who have made large and small contributions to the success of this project.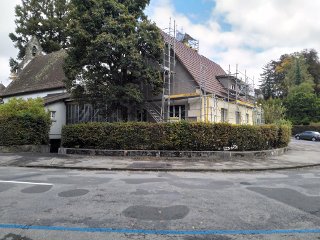 The builders have been working since the end of July on this ambitious energy project. Now it is nearly complete.
We also carried out renovation work on the chaplain's house, relaid floors, remodelled the kitchen and bathroom, removed old shelving and repainted walls and renewed the church's sound and video system. We have dovetailed this with the energy work.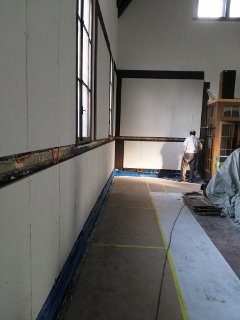 We have replaced the old oil tank and boiler with a gas-based system, for ease of maintenance. The new boiler is much smaller, since a more efficient heating system and more effective insulation mean that we need fewer kilowatts of heat from it. The former tank room is now the house cellar, and the former Schutzraum (bomb shelter) is accessible from the lower church hall.
With the agreement of the conservation authorities (Denkmalschutz), we had a new form of heating in the church. This relies on efficient radiators in the walls (a technique used in several churches). The panelling has been replaced with a facing of similar appearance to the old panels. On 5 November, we held a service of dedication in the newly finished church.
We have reglazed the hall, and are introducing a system controlled by the computerized church calendar (used for booking administration) to ensure that it is heated only when it is needed. The last phase of the project involves insulation work on the church house, which is taking place now. For reports on the various stages of progress, click here. There are pictures too.
A Bible Study Course
Stephen is leading a bible study course on Fridays on 17 and 24 November and 8 and 15 December. We shall be looking at the readings for the following Sunday - you can find these in the magazine or on the rotas page. (The readings sheet is also normally available on the web on the Friday itself.) The course will take place at 1830 (and if there is enough demand) also at 1200. Why not come along?
Religious Extremism - Four Talks
Violence, terrorism and oppression in the name of religion are seldom out of the headlines these days. We are fortunate in having Canon Douglas Pratt as a regular member of our congregation when he is in Berne as Visiting Professor in the University's Department of Old Catholic Theology. Inter-relgious issues are his field of specialization.
In November, he gave four talks on Wednesday evenings. Copies of the slides for them can be found here:
The Bishop's Advent Appeal
This year's Advent Appeal is for the Joel Nafuma Refugee Centre in Rome, which is supported by the American Episcopal Church there. This is a very necessary response to the refugee situation in Italy, which has been hard hit by the provisions of the Dublin Agreement. St Ursula's will be making a donation from our charity budget, but individuals are welcome to give more support - contact the Treasurer. Read more in the Bishop's letter.
Weekday Prayers
Thanks to Henry Hope, we have been holding Morning Prayer on Tuesdays at 8.30 and Evening Prayer on Fridays at 18.00 for some time now, following the order in Common Worship. From 13 November, we shall be holding Morning Prayer on Mondays, Tuesdays, Wednesdays and Fridays at 0800, and Evening Prayer at 1800 on Mondays, Tuesdays and Fridays. Everyone is welcome to these quiet, reflective times of prayer.
On Thursday mornings at 10.30 there is a chance to follow fellowship at the Eucharist with cake and conversation. Several people like this format, and we hope it will continue.
And on alternating Thursday evenings, there is always the chance of joining church members in the Thun area for their evening session of eucharist, reflection and fellowship. Their meeting place, the Chapelle Romande, is only a five-minute walk from the station there, so why not join them too?
Water, water, Uganda
We and our Junior Church have been taking a keen interest in a project to bring clean water to villages in the Kigezi diocese in Uganda. Some of our church members have been to the area and helped with the work, and he have dedicated our Harvest and Christmas collections to the plan, which is also supported by Tear Fund Schweiz.
New Things in Thun
We have held services in Thun for many years. They have always been on Thursday evenings, and for a long time were in rather a remote part of Thun.
Now we have moved, to the French Chapel at Frutigenstrasse 22, less than five minutes' walk from the station. Our first service there was on 19 January, and you can seem some pictures of it here. There is a flyer here - print one out for a friend! iClick here for details of the next few services. Details of how to find us can be found here.
New Things in Biel/Bienne
Mark Pogson is establishing a pattern of English services in Biel/Bienne. Services will be held at 1700 on the first and third Sundays in the month, thanks to the hospitality of the Old Catholic community there, who have placed the Epiphany Church at Quellgasse/rue de la Source 27 at our disposal.
The church has its own website, biel-english-church.ch, which gives more information.
Money, money, money
Many of our members pledge to give a regular sum to support the church. We receive no state support, and have to finance the ministry here ourselves. Our pledge appeal was sent out in October, but there is still time to add to the growing number of people who pledge to the church. You may fill in a form (there are several in the church hall) and give or send it to the Treasurer, or pledge online.
Our Chaplaincy Survey
As part of our preparation for a new chaplain, we conducted a short survey to get solid facts about our congregation - they are not all over 70, they are not all women, they are not all cradle Anglicans, they are not all English (or even British). We also asked what the church meant to them, and how they saw its future.
Isabelle Wienand, did the hard work of sifting through the answers and preparing a report for Council (to help us draw up the profile) and for the congregation. You can find a copy of it by clicking on this link.
Refugees
As an English-speaking church in a German-speaking land, we have few direct contacts with the flood of refugees who come from the Middle East. We donate money to our sister congregation in Athens, who are directly involved in the hardships there. We give to specific projects run by Refuge Egypt, Tear Fund and Partner Sein, and other charities which are directly involved in this problem.
In addition, we are supporting an Afghan family locally, whose status is still in the balance. We would value your prayers for them.
Books for our Book Sales
Our book sale team have produced some notes on how you can help them by bringing the right kind of book, and not bringing the wrong kind of book. You can read their notes here.
Pledging
Many of our members have responded to our appeal, which we have tried to keep simple and direct. Trying to move with the times, we are introducing the possibility of pledging "on-line" - the pledge page on our website has details. We hope that paying on line will come later. In any case, every rappen is appreciated!
Our Library
We have started a series of reviews to bring interesting books to people's attention. These consist of short talks in church, or articles in the magazine. We hope this leads to wider use of the library.
Our librarians have been very busy over the past few months drawing up a catalogue of books available in our library (although we haven't catalogued the abundant children's books (yet)). You can see their catalogue here. The library is open most Sundays after church during coffee time, and everyone is welcome then to browse or to borrow.
Breakfast at Church
Since May 2014, we have enjoyed a church breakfast on the first Sunday of the month. We provide the food (cereals, fruit, juice, yoghurt, croissants, bread, tea, coffee), you provide the company.
Some 20 people have turned up for these regular breakfasts, which have been greatly appreciated. There are some pictures on our Picasa site.
Our next breakfast at church is on Sunday, 7 January. See you there?
Facebook
There's up-to-the-minute news as well on the church's Facebook site. Take a look!